The Automotive Aluminum for Inner And Outer Hood
The Structure of Hood Panel
A car hood panel is one of the most important components of the BIW (body in white), it is considered as the closure sheet-metal component. A hood panel consists of two panels that are hemmed together to form the automotive hood assembly.
The inner panel of the hood is not visible to the customer but this is the engineering feature of the outer panel. The outer panel has the aesthetic look to it but on its own is very weak and not capable of handling force during impact.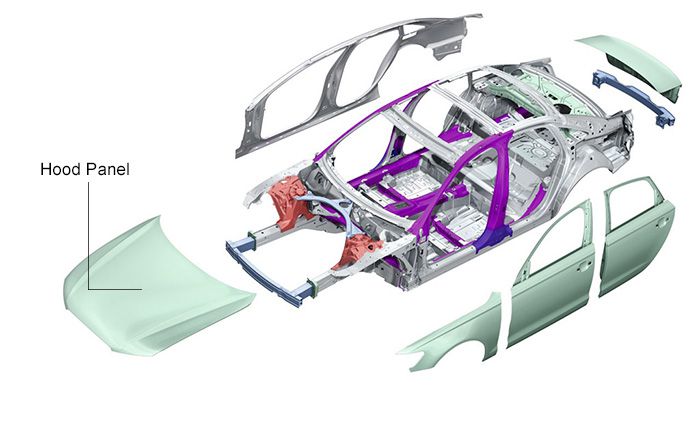 Why Choose Automotive Aluminum Sheet
Most automobile hood outer panels are made of traditional steel plates, and their quality does not meet the needs of lightweight development. For this reason, it is necessary to obtain lightweight effects through the application of the automotive aluminum sheets. The most widely used car aluminum alloys in the market are deformed aluminum alloys of 6111, 6016, and 5182.
The production process of the outer panel of the hood mainly includes blanking, deep drawing, trimming, turnup, and side turnup. Among them, deep drawing is a key process to ensure the quality of parts.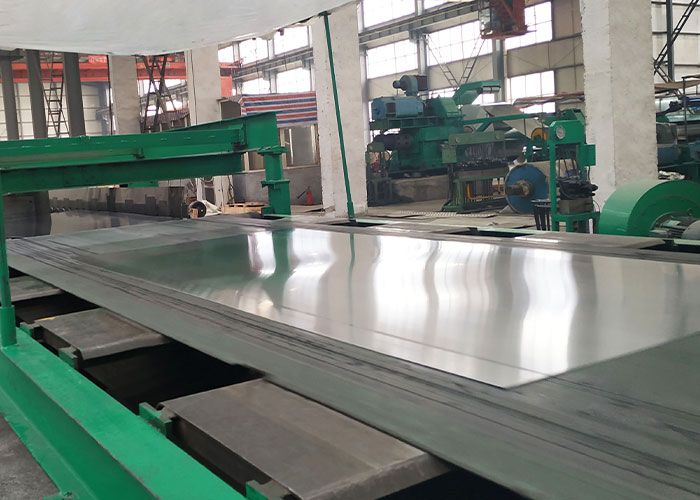 The Properties of Aluminum Alloys for Hood Panel
6111 aluminum: It features excellent corrosion resistance and precipitation hardening, which is the premiere aluminum alloy used for automotive hood panel. Aluminum 6111 alloy is a wrought alloy that is a heat treatable. It possesses high strength and excellent stretch-forming characteristics.
6016 aluminum: It has good forming properties and bake hardening properties, and is widely used in automobile body coverings (especially outer panels) such as engine hoods, doors, trunk lids, roof covers, etc.
An important indicator to measure the performance of 6016 aluminum sheet is is the bending limit. Generally speaking, the 6016 aluminum alloy in O temper is the softest and is suitable for various bending processing.
5182 aluminum sheet: 5182-O aluminum alloy is often used as the engine hood inner panel.It is a kind of Al-Mg alloy. The 5182 aluminum alloy has good corrosion resistance, excellent weldability, good cold workability, and has a moderate amount of silicon, so the weldability is better than 5A02.
Specifications of Automotive Aluminum Sheet for Hood Panel
| | | | | | | | | | |
| --- | --- | --- | --- | --- | --- | --- | --- | --- | --- |
| Alloy | Si | Fe | Cu | Mn | Mg | Cr | Zn | Ti | Standard(wt%) |
| 5182 | 0.20 | 0.36 | 0.15 | 0.20-0.50 | 4.0-5.0 | 0.10 | 0.25 | 0.10 | EN/ASTM |
| 6111 | 0.6-1.1 | 0.40 | 0.5-0.9 | 0.1-0.45 | 0.5-1.0 | 0.10 | 0.15 | 0.10 | GB |
| 6016 | 1.0-1.5 | 0.5 | 0.25 | 0.2 | 0.25-0.6 | 0.10 | 0.2 | 0.15 | EN/ASTM |
| | | | | |
| --- | --- | --- | --- | --- |
| Alloy | Tempers | Thickness(mm) | Width(mm) | Length(mm) |
| 5182 | O/H111 | 0.5-3.5 | 1200-2650 | 500-16000 |
| 6111 | T4 | 0.8-3.5 | 1200-2650 | 500-16000 |
| 6016 | T4 | 0.8-3.5 | 1200-2650 | 500-16000 |
Original Source:https://www.autoaluminumsheet.com/application/the-automotive-aluminum-for-inner-and-outer-hood.html
Tags: automotive aluminum sheet , hood panel , 5182 aluminum sheet ,
Prev:5083/5182 Aluminum Sheet for Trunk Lid
Related Product
Related Blog
Contact Form