5182 6101 Materials for Car Body Panels
Aluminum is the most cost-effective top structural material for manufacturing electric cars, passenger cars and race cars. The aluminum alloy plates currently used for car bodies mainly include 5000 series and 6000 series. Common grades are 5052, 5754, 5182, 6016, 6014, and 6181. 5000 aluminum alloy is an aluminum alloy that cannot be heat treated and strengthened. It has moderate yield strength and tensile strength, corrosion resistance, processability and good weldability.
The aluminum alloy used for the doors, hood and trunk lid is aluminum 5182. Because the 5182 aluminum plate has excellent deformability, it can absorb the impact very well when it is hit by external forces, and protect the driver and passengers to a great extent. Therefore, the four car doors an two covers made of 5182 aluminum alloy are safer.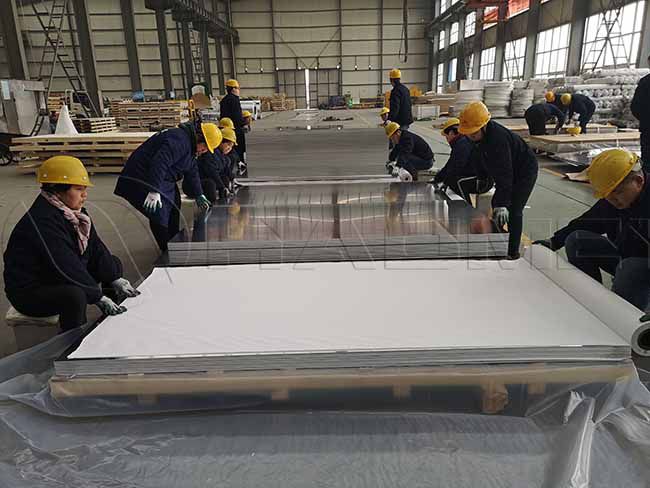 The sizes of aluminum alloy plates for car bodies are mainly concentrated in thickness 0.7-3mm and width 900-2130mm. The amount of wide aluminum plates is steadily increasing. For example, the hoods of BMW 5 Series and 7 Series cars, and Mercedes-Benz E-Class and S-Class cars are made of aluminum plates with a width of 2100mm. Aluminum alloy plates for car bodies require good deep drawing performance, no tensile strain streaks, rapid aging, and high strength properties.
6xxx aluminum alloys are currently the most commonly used automotive sheet metal aluminum alloys in the automotive industry. They have excellent formability, high strength properties, corrosion resistance, edge folding properties, high surface properties, etc., and can be painted and baked at the same time. Finally, the strength performance has been improved to a certain extent.
Aluminum tube busbar refers to seamless aluminum tube, which is extruded from pure aluminum or aluminum alloy and is hollow along its length. Common alloys for aluminum busbars are 6063, 6061 and 6101 aluminum sheet. In the case of high strength and low conductivity, 6061 aluminum alloy busbar pipe is used. In cases of high electrical conductivity and minimal mechanical losses, 6101 alloy is used.
For car doors, car hoods, car front and rear fenders, etc., the mature product we have developed is 5182 aluminum sheet. The stamping effect of Haomei Aluminum's 5182 alloy aluminum plate is good. Judging from customer feedback, there are no cracks in the aluminum plate after stamping.
The thickness range of 5182 aluminum alloy is 0.15-600mm, and the width range is 20-2600mm (cut according to customer needs). Welcome to leave message below to inquire what you need.
Original Source:https://www.autoaluminumsheet.com/a/5182-6101-materials-for-car-body-panels.html
Tags: 5182 aluminum sheet ,
Prev:5754 5454 Alloy for Aluminum Car Frame
Next:Al5454 5754 for Car Body Making
Related Product
Related Blog
Related Application
Contact Form