5754 Automotive Aluminum Sheet
Why Choose Aluminum in Cars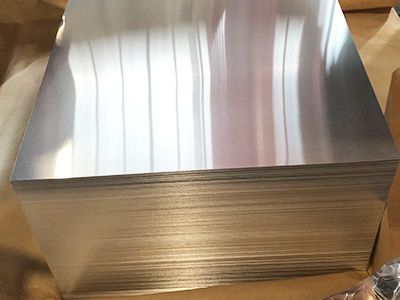 The aluminum can not only reduce body weight, but also reduce fuel consumption and improve vehicle maneuverability. Another reason why an aluminum body is superior to other steel bodies is its environmental performance. It can reduce pollution emissions and 99% of aluminum can be recycled.
What Is 5754 Aluminium Sheet
5754 aluminum sheet features good corrosion resistance, excellent processing performance, weldability and easy processing and forming. The 5754 aluminum in different tempers are used for car doors, molds, seals and the raw material of canning industry.
Its surface processing quality is outstanding, which is applicable for different surface processing methods like brushing, sandblasting, grinding and polishing.
Specification of 5754 Automotive Aluminum Sheet
Chemical Composition
| | | | | | | | | | |
| --- | --- | --- | --- | --- | --- | --- | --- | --- | --- |
| Alloy | Si | Fe | Cu | Mn | Mg | Cr | Zn | Ti | Standard(wt%) |
| 5754 | 0.40 | 0.40 | 0.10 | 0.50 | 2.6-3.6 | 0.30 | 0.20 | 0.15 | GB/EN/ASTM |
Mechanical Properties
Alloy

Temper

Thickness(mm)

Yield Strength

Rp0.2(Mpa)

Tensile Strength

Rm(Mpa)

Elongation

A50(%)

5754

O

≥1.5-3.0

190-240

≥80

≥16

≥3.0-6.0

190-240

≥80

≥18
Size
| | | | | |
| --- | --- | --- | --- | --- |
| Alloy | Temper | Thickness(mm) | Width(mm) | Length(mm) |
| 5754 | O | 1.0-8.0 | 1200-2650 | - |
The Uses of 5754 Aluminum in Car
Roof panel: Weight reduction in the roof (ie lowering the centre of gravity) has always been a high priority topic in automotive design. The use of aluminium for the car roof is well established in all-aluminium car body designs.
Engine bottom guard plate: It has two functions: protecting the engine and improve the airflow of the vehicle chassis. 5754 aluminum plate is a good choice.
Car door: The aluminum alloy used for car doors should have high fatigue resistance and excellent corrosion resistance, as well as excellent processing performance. The use of 5754 aluminum plate can bring more comfortable feeling, light closing voice of car doors and safe car door lock.
Fuel tank: The common aluminum alloys for fuel tank on the market are 5052,3003 and 5754 aluminum plate. It can effectively extend the service life of the automobile fuel tank, so it replaces the traditional iron fuel tank and plastic fuel tank.
Oil Tanker: The tanker body made of 5754 aluminum sheet can not only meet the lightweight requirements, but also greatly improve the safety performance and eliminate hidden dangers.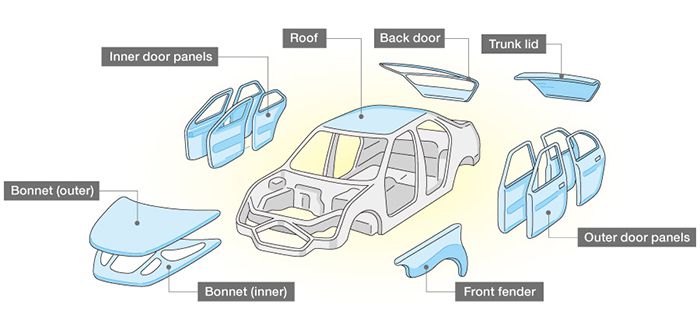 Why Choose Haomei 5754 Aluminum Plate
1. It is of strong weldability, low tendency of welding cracks, high strength of weld seam and base metal.
2. There are less oxides on the surface, no cracks, no corrosion spots and no traces of nitrate.
3. 5754 aluminum plate is a medium-high strength aluminum alloy with good fatigue performance and corrosion resistance.
4. 5754 aluminum plates with different thicknesses and different tempers can be customized according to customer needs.
FAQ
1. What Is Your MOQ?
The MOQ of each specification is 8 tons. If your order is less than 8 tons, welcome to contact us directly. We will help you to check the aluminum sheets in stock.
2. Are you a aluminum sheet manufacturer or a distributor?
Haomei Aluminum is a large-scale aluminum body panel manufacturer. Our automotive aluminum sheets have been exported to over 80 countries.
3. Is your 5754 aluminum sheet price fixed?
The 5754 aluminium sheet price consists of aluminum ingot price and processing fees. As the price of aluminum ingots fluctuates daily, the quotation will fluctuate.
4. How to get a quotation?
Please tell us thickness, width, length (mm), total demand (tons), so that we can provide you with an accurate quotation. Such as: 5754 aluminum plate, 3*1020*2400mm, demand 15 tons/month, for automobile roof panel.
Factory capacity
Haomei Aluminum has the whole process of production capacity of automotive aluminum sheet from casting, hot rolling, cold rolling, heat treatment to surface treatment. The yearly capacity is 100,000 tons.
Product Lines

Equipment

Annual Capacity/T

Max Size(mm)

8 casting lines

/

320,000

~600ⅹ~2620ⅹ~7000

2 hot rolling lines

(

1+1)2800 rolling machine

(1+4)2000 rolling machine




260,000

450,000

4-10ⅹ~2500ⅹC

2-6ⅹ~1800ⅹC

Cold rolling line

(1#,2#)2800 rolling machine

(1#,2#)1850 rolling machine

(1+2)2000 rolling machine

150,000

120,000

250,000

0.5-6.0ⅹ~2500ⅹC

0.15-2.0ⅹ~1800ⅹC

0.15-2.0ⅹ~1900ⅹC

Heat and surface treatment line

(1#, 2#, 3#) air cushion furnace, surface treatment line

100,000

0.15-4.0ⅹ~2500ⅹC
Original Source:https://www.autoaluminumsheet.com/product/5754-automotive-aluminum-sheet.html
Tags: 5754 aluminum , automotive aluminum , 5754 aluminum sheet ,
Related Blog
Related Application
Contact Form