Aluminum 5754 for Lightweight Car
Automobile lightweight is a main trend of world automobile development. Automotive aluminum is a main lightweight material, which is mainly used to transform and replace body materials. Its purpose is to reduce the weight of the vehicle by using lighter materials under the premise of ensuring performance, thereby achieving energy-saving and environmental protection functions.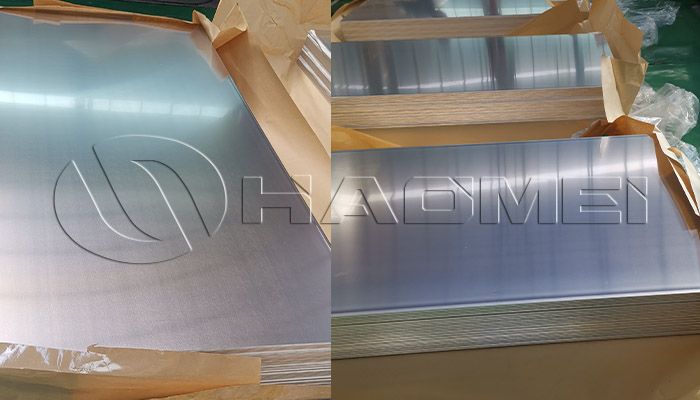 Aluminum 5754 for car door
Haomei 5754 aluminum has reached the international level, fully replacing the imported products and realizing mass production. We have also formulated a complete production process operating procedure and quality assurance system.
5083 aluminum for car parts
Haomei 5083 aluminum sheet performance is equivalent to that of foreign materials, meeting user requirements and replacing imported materials. The high-temperature superplasticity of this material can reach 200-298%. With the increasing demand for processing complex parts such as rail transit, high-end cars, and luxury racing cars, the application prospect of 5083 aluminum is extremely broad.
5xxx aluminum for oil tank and structural parts
5xxx aluminum belongs to medium and high strength aluminum alloy. They have high strength, high formability, high corrosion resistance, high surface treatment and welding performance, so they are widely used in automobile fuel tanks, structural parts and engine inner covers such as 5052, 5182 and 5083.
6016 aluminum sheet
After solution treatment, with appropriate pre-treatment, 6016 aluminum sheet has good formability, and has high baking hardenability during painting. After stamping and forming, the performance can be further improved by painting and baking.
Original Source:https://www.autoaluminumsheet.com/a/aluminum-5754-for-lightweight-car.html
Tags: automotive aluminum ,
Prev:The Aw 5083 Aluminium for Car Air Cylinder
Next:5754 h111 Aluminum Alloy for Car Body
Related Product
Related Blog
Related Application
Contact Form