5052 ABS Aluminum Sheet
The ABS aluminum plate is mainly used for the four doors, hood panel, trunk lid, lid,etc. The alloys involved in car body panels include 6016, 6022, 6111, 6181, 5754, 5182 and 5052. The size of aluminum alloy plate for car body is mainly concentrated in the thickness of 0.7-3mm and the width of 900-2130mm.
5xxx alloy is an aluminum alloy that cannot be strengthened by heat treatment. It has good corrosion resistance and welding performance. However, it may produce Ludes lines and delayed yielding during processing deformation in the annealed state. Therefore, it is mainly used for the inner panels. 5083 and 5052 aluminium plate are used most.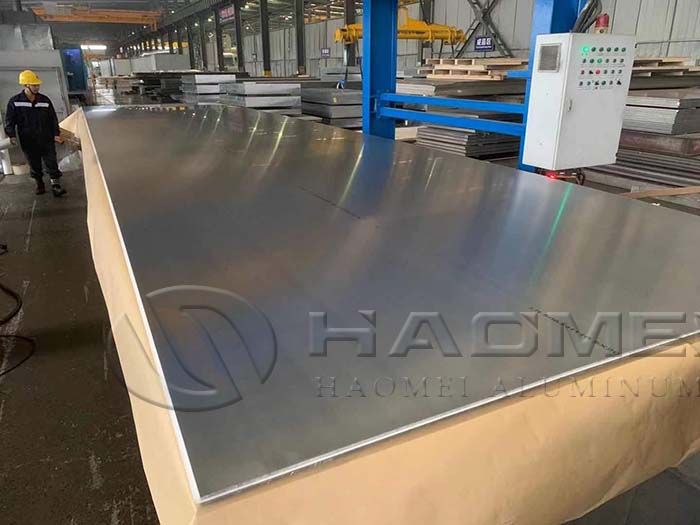 5052 aluminum sheet is a widely used rust-proof aluminum plate with high strength, especially fatigue resistance, high plasticity and corrosion resistance and good weldability. 5052 aluminum plate is an aluminum alloy that cannot be strengthened by heat treatment. It is suitable for parts with complex shapes such as inner panels of the body.
5052 aluminium plate is mainly composed of aluminum and magnesium, and the Mg content is 2.2-2.8. In terms of mechanical properties, the tensile strength is 170-305MPa, and the elongation is 9-22%. It has a wide range of applications and is suitable for chassis and cabinet materials, sheet metal parts of transportation vehicles, ships, hardware products, electrical enclosures,etc.
5052h32 aluminum sheet is a popular type among the 5052 aluminium sheets. It shows high fatigue strength, good cold workability, excellent polishing effect and excellent corrosion resistance, which is an ideal material for a variety of vehicle skins, such as delivery cars, trailers, marine diesel tanks, truck air brake boxes, gasoline or lube oil pipes, etc.
The use of alu 5052 for cars can the car's own weight without reducing the car's load, thereby reducing the body's center of gravity and making the car run more smoothly and comfortably. Welcome to leave message below to inquire what you need.
Original Source:https://www.autoaluminumsheet.com/a/5052-abs-aluminum-sheet.html
Tags: 5052 aluminum sheet ,
Prev:Hood Inner Panel Aluminium 5182
Next:The Application of 7075 Aluminum Sheet in Automobile
Related Product
Related Blog
Related Application
Contact Form